Updated September 12th, 2023
While there are several hundred thousand financial services professionals, most struggle and fail to become successful financial advisors.
Among the thousands of advisors I have coached, the super-successful have several common traits. Specifically, they have a/an:
Financial advisor marketing plan
Strategy that focuses on the key activities that grow their business
In-depth knowledge of their ideal client
"Can-do, will-do" attitude
Common traits of successful financial advisors including a success mindset
Coach or mentor that ensures they stay on track
Process to acquire warm introductions and referrals from their client base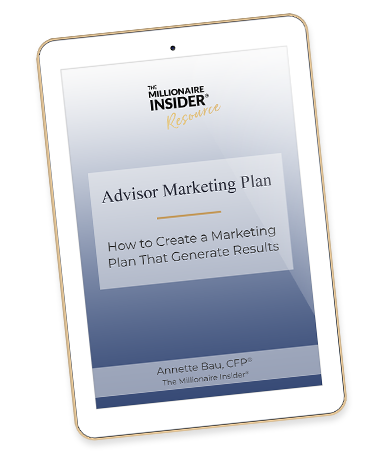 If you do not already have a plan, or you want to see better results in your business, click here:
Focus on elevating their Worth Barometer (This refers to their beliefs and self-esteem.)
Formula for success that includes a solid foundation, winning strategy, and consistent execution
Understanding that most success is boring and mundane. As a result, they do the required work to get their desired result!
Ability to see the opportunity in challenges
Understanding that the secret to success requires that you focus on what you want versus what you don't want
Unrelenting and continued focus on becoming a successful financial advisor
Focus on their client interests and goals and a track record that proves they are experts
Specialties in the areas of estate planning, wealth management, etc.

Today you will learn how four individuals built successful careers as financial advisors and what you can do to achieve better results.
Most advisors are focused on making phone calls, posting on social media, or learning how to sell more products.
These advisors focus on creating long-term relationships and giving great financial advice.
They don't want to be a good financial advisor; their goal is to be a great resource to their clients.
They are clear on their target market with a marketing strategy that allows them to stay top of mind. These professionals focus on providing real value and not just investment management or financial planning advice. As a result, their retention and conversion rates are better than their peers.
Like other successful advisors, they have a content marketing plan that provides consistent value to their clients and prospective clients.
I have had the pleasure of coaching several financial professionals who were struggling to take their business to the next level. Through hard work and dedication, they were able to achieve and even exceed their goals.
Today, I share four of my most popular interviews with financial planners and investment advisors.
Dina Fliss, Founder of Global View Capital
The interview with Dina was one of the most insightful and valuable conversations I have ever had! She pulls the curtain back and shares everything you need to know about becoming a successful financial advisor.
In the interview, Dina shares several billion-dollar nuggets that you can begin applying today!
How to be a successful advisor and fulfilled individual
The process of changing a poverty mindset to an abundance mindset
How to get from where you are to where you want to be
What to do to turn a tragedy into a success
How to think like a millionaire
Why you worry and how to overcome it
The affirmative statement to attract the people and situations you want in your life
Here is the link to watch the episode: "A Conversation with Dina Fliss."
TJ, How to Become a Successful Financial Advisor
TJ works with a large wealth management firm, so we have kept his identity confidential at his request.
He had plateaued at $500,000 per year in production when we met. He was ready to get his desired results.
In this financial advisor success story, you will learn:
The exact script TJ uses to get warm introductions to his ideal prospects
A critical decision he made to leverage time and resources. As a result, he received four referrals in one month
What he did to change his mindset and increase his revenue
The financial advisor's marketing plan that grew his business exponentially. As a result, he increased his income by 37% and is on track to hit $1,000,000 in production.
If you want to serve more affluent women and couples, click here.
What he did to get an affluent woman to call him and request a meeting (This is one of my favorite strategies!)
Why referral marketing doesn't work (and what needs to change to make it work!)
What he did to change his inner game and foundation. As a result, his referrals and revenue immediately increased
How he was able to stop cold calling and replace it with a warm relationship marketing strategy
The one decision that changed everything (This is something anyone can do!)
Here is the link to watch the episode: "Top Producer Interview with TJ"
Top Financial Advisor – How One Firm Increased New Assets by $80 Million
In this interview, Matt reveals how his firm increased its AUM by $80,000,000 in one year.
He shares the good, bad, and ugly aspects of growing a successful advisory practice and what he did to get the team on board.
Matt also shares each aspect of the financial planning process in his firm and how they created a workflow that allows them to leverage their time and increase their bottom-line revenue.
Top Financial Advisor insight you will learn:
How to get results faster
Why HVAs (high-value activities) and IPAs (income-producing activities) are critical to success
How to communicate with the different personalities in your firm (This is a million-dollar nugget!)
What to do when your boss wants to grow the firm but is stuck in the "how it has always been" mindset
The one thing his firm did that changed their entire business (and their results, too!)
What to do to get more referrals and warm introductions
The client onboarding process that made growth easier and more possible
What to do to get the entire team on board so you can achieve your goals
Here is the link to watch the episode: "Top Financial Advisor — How One Firm Increased New Assets by $80 Million."
Marketing to the Affluent & Multi-Family Office Interview with Don Wilkinson
Don Wilkinson was a mentor, friend, and peer for over 20 years. His insight and expertise were second to none. He could see the big picture while not losing sight of the details.
He had a perspective and insight on affluent clients that few advisors share.
In the Marketing to Affluent & Multi-Family Office Interview, you will learn:
One of the best strategies for marketing to the affluent
How to create a family office
A deep dive into a multi-family office (MFO) and why they are important if you want to serve wealthy investors and affluent clients
The threats and opportunities to investment advisors who market to and serve affluent clients
How to increase warm introductions and referrals; this one strategy generated over five $10 million accounts!
How one advisor lost a $30 million account (and something anyone serving affluent women must know)
What to do to find wealthy clients (even the hard-to-find ones)
Marketing insight and strategies to attract and retain affluent women and couple clients
What your advisor marketing plan must include if you want to attract wealthy investor clients
Click here to watch the episode: "The Multi-Family Office Interview with Don Wilkinson"
Conclusion – How to Become a Successful Financial Advisor
Achieving success as a financial advisor, money coach, or financial coach requires a marketing strategy. These interviews prove that there are many ways to attract more ideal clients so you can grow your business.
To create your marketing plan, click here: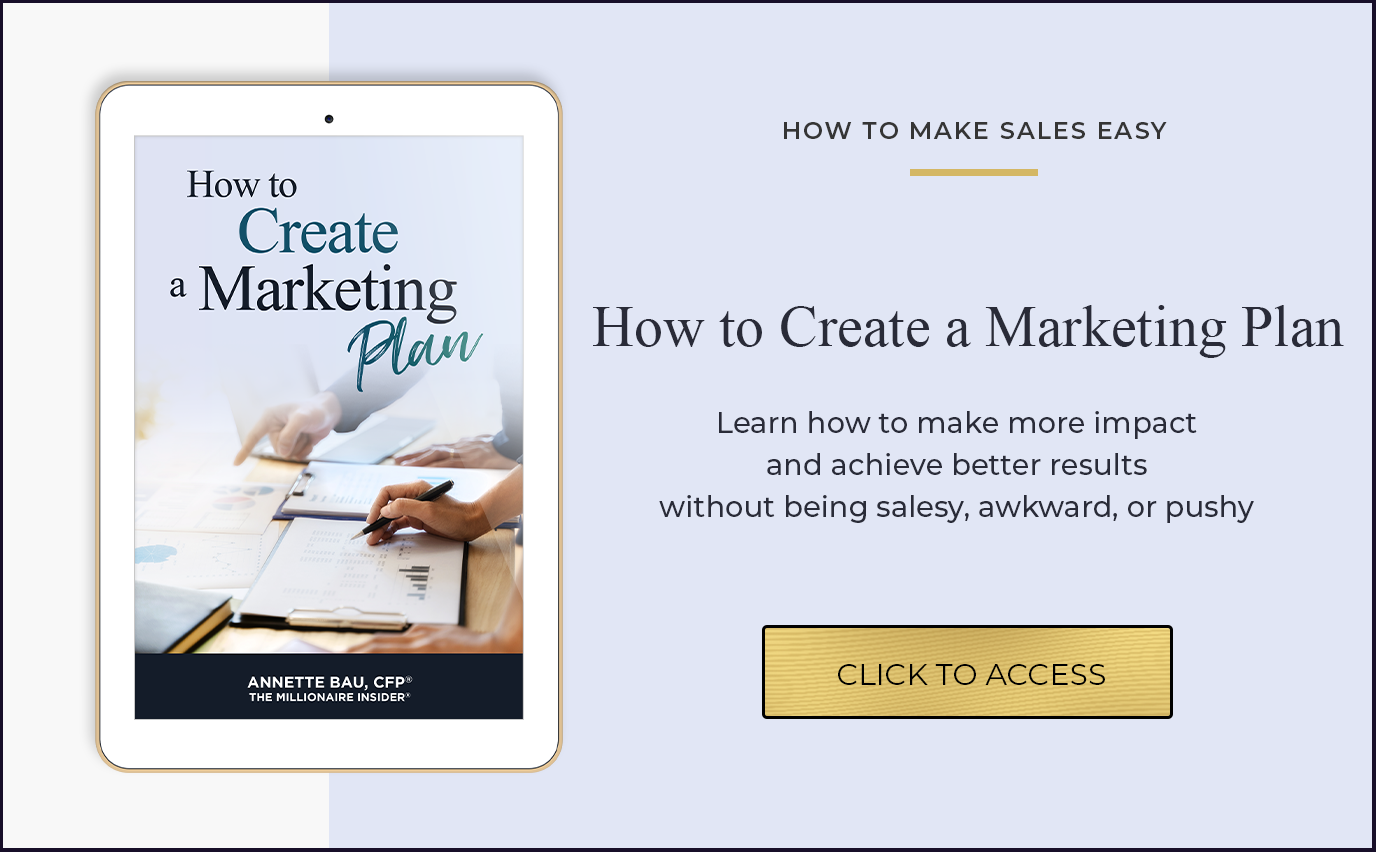 Enjoy the episode!
Annette