Welcome to Business Made Easy:
Business Made Easy: 3 Steps to More Results provides you the step-by-step process you need to get more clients and more results!

It provides the step-by-step process to get you on a direct flight to achieve your desired result.
If you:
Want something different.
Want something better.
Want an amazing business and life.
You have come to the right place.
We believe you deserve to live your dream business and life so we created: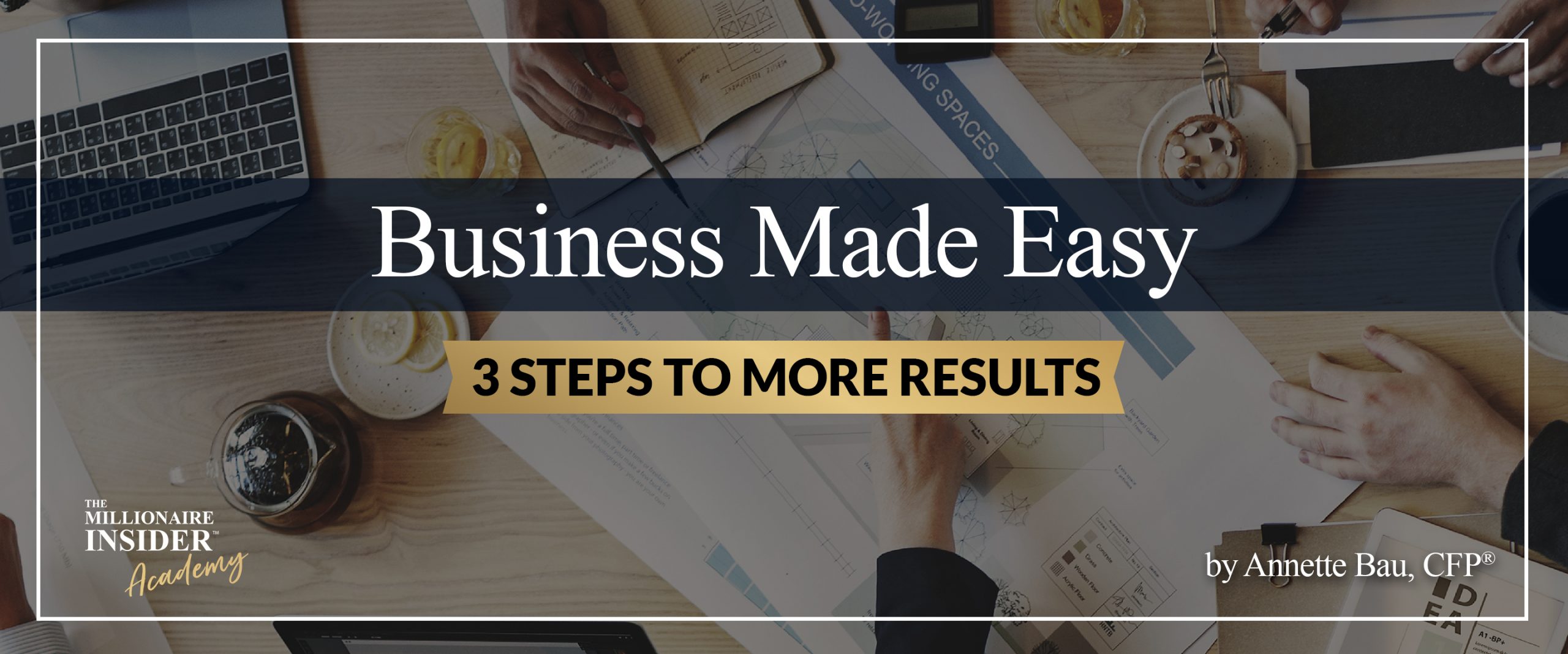 Business Made Easy is designed to get you into the driver's seat of your business and life to get results!
We begin with an overview of your business to determine what is working and where you have the biggest opportunities for success.
This begins by creating a solid foundation so you show up with the right mindset and confidence. A solid foundation enables you to do the work required to get results.
Then we dive into your strategy to determine which type of client you would be most successful serving, find out everything about them, and fill your funnel with leads.
The final step entails the execution where you consistently complete the steps required to achieve results.
We combine a blend of neuroscience along with real-world practical information so you get results that last.
With over 14 years practical experience helping others just like you and 30+ years in the trenches advising advisors, we have found and proven that success begins with a Formula.
If fact, we know that everything in life has a Formula – failure, success, financial freedom, bankruptcy, health, illness – EVERYTHING!
From our real-world experience, we know that the first step to achieve your goals and become a successful advisor, consultant, or entrepreneur is to create a winning Formula.
A Formula that works for any goal.
A unique Formula that will allow you to break through barriers, find and attract your ideal clients, grow your business, and achieve the results you desire.
A Formula that guides you in attracting ideal, profitable clients, increasing your sales, and growing your bottom line.
A winning Formula that includes your Foundation (Inner Game), Strategy (Game Plan), and Execution (Outer Game).
In this training, you will learn:
The step-by-step process to create your winning Formula.
The process to apply the Formula to any aspect of your business or life.
The process to identify and remove beliefs that are keeping you from your goals.
How to get it all done (what extraordinarily successful people do differently than less successful people).
The secret tool top producers and millionaires use to get results.
An assessment to determine gaps and opportunities.

Your Foundation training guides you in:

Getting clear on what you want.
Discovering your Level 3 'Why'.
Developing a healthy Worth Barometer.
Setting and achieving your goals.
Mastering non-negotiable activities (NNAs), high-value activities (HVAs), low-value activities (LVAs), non-value activities (NVAs), income producing activities (IPAs), power hours (PHs), and power breaks (PBs) so you can operate consistently at your best.

Your Strategy training guides you in:

Creating your game plan (IG+GP+OG).
Creating your business profit model.
Choosing your ideal niche market.
Creating your Target 100 (for ideal, profitable clients and for referral partners).
Conducting research.
Selecting the best lead generation strategies.
Leveraging referrals and warm introductions.
Creating your master script book.

Your Execution training guides you in:

Creating and implementing your plan.
Setting, revising, and affirming your goals, HVAs, and IPAs.
Executing your Peak Performance Schedule.
Identifying and completing your T-100 (Target 100) and T5 (Top 5).
Tracking and measuring your activity and results.
Mastering your script – what to say, when to say it, and how to say it.

If you do not have a plan or you have a plan that is not producing your desired results,
start here:

Business Made Easy also includes:

The PMA360 Performance Mastermind Membership:

PMA L2 – Foundation, Mindset, and Performance
PMA L3 – Marketing, Strategy, and Positioning
PMA L4 – Sales and Scripting
Mastermind bonuses
PMA360 LIVE Q&A

Because we know that to achieve long-term, repeatable success, our members need on-going support, direction, and accountability, we created just for you….

PMA360 (A Performance Mastermind Academy)

Our PMA360 Mastermind membership is designed to help advisors, consultants, and entrepreneurs build profitable businesses, create amazing lives, and ultimately achieve financial freedom. Our PMA360 Mastermind Membership helps our members solve their challenges by tapping into the collective intelligence of other PMA360 members.

With over three decades of experience under our belt, we know that our members need support in three areas (foundation, marketing, and sales). With this knowledge, we created three levels within our PMA360 Mastermind.

The PMA Mastermind levels (PMA L2, PMA L3, and PMA L4) include:

PMA L2 provides you the insight to master your foundation, mindset, and success, including all aspects of your inner game.

If you lack focus, worry, get distracted, are not sure what to do, or how to best do it, PMA L2 is a great place to start!

Examples of PMA L2 trainings and resources:

How to Elevate Your Worth Barometer.
How to Program Your Mind.
How to Set Goals to Achieve Your Desired Result.
The Power of Visioning.
How Millionaires and Super Successful People Get It All Done.
The 9 Questions Extraordinarily Successful People Ask.
How to Operate Above the Grid.
What You Must Know and Do To Succeed.
How to Focus on Command.

Join Business Made Easy, here:





PMA L3 provides insight and training for marketing, positioning, and branding, including marketing to affluent couples and women.

If you need support implementing your marketing plan, identifying your ideal client, or if you do not have an effective brand or lack the lead generation strategy that brings your client to you, PMA L3 is a great place to start!

PMA L3 will support implementing your marketing plan.

Examples of PMA L3 trainings and resources:

Insight & Wisdom to Create Your Plan To Achieve Massive Results.
Marketing to Non-Traditional Professional & Business Owner Affluent Women.
Building Your Lead Generation Machine.
How to Create a Boatload of Raving Fans.
The Power of Positioning: How to Brand Yourself To Attract More Ideal Clients.
Creating Your LinkedIn Blueprint to Generate Leads & Business.
Creating Your Funnel (from prospect to ideal client).
Lead Generation through Website, Keyword Search, and Opportunities.

Join Business Made Easy, here:




PMA L4 provides insight on scripting and sales, including mastering the entire process from the first meeting with a prospect to converting them to a client for life.

PMA L4 supports you from the first word you say to a prospect or client, to the retention of long-term clients, and everything in between.

PMA L4 includes LIVE real-time one-on-one scripting calls so you can practice what you say, when you say it, and how to best say it.

Examples of PMA L4 trainings and resources:

How to Pre-Qualify (without being awkward).
How to Set Appointments.
What to say when asked, "What do you do?"
How to Handle Objections (before they come up).
How to Approach A Friend (without making it uncomfortable).
How to Ask for Referrals.
How to Make Cold Calls, Warm.
How to Master the Art of Storytelling.




Join Business Made Easy, here:




If you are earning over $75,000 and you want a tailored strategy to customize your plan, a one-on-one strategy session is the best place to start.

If you want more information about a strategy session, go here: Strategy Session Overview.

If you want to purchase a strategy session, go here: Access a Strategy Session

We take results very seriously.

Our Millionaire Insider™ Academy and PMA360 Mastermind Academy members come to us because they want different results or better results in their business and their life.

And they get results!…

Real-World Results

"Best Income Month Ever. First 50% Increase, then an 80% Increase and a 400% Increase in Referrals! This Is One Of The Best Decisions I Have Ever Made…

I have been a top producer for 18 years, in the top 5% of my company. After only three months of implementing Annette's material, I had my best income month ever. Now 6 years later, I continue to have record years, year after year!"

-Mike N., (Physicians Mutual)




"Thank You! I Had My Best Year Yet, With $414,000 In Annual Revenue…

I just had my best year ever, making $414,000! I love the information and am inspired when I listen to Annette speak. She really "gets it."

-Kim M., (Wells Fargo)




"Million Dollar Referrals in The Perfect Niche…

First I created my plan, then I found the perfect niche market of traditional affluent women. The result- I am getting million dollar referrals including $1.2M, $1.4M, $1.8M, $3M!"

-Joel B., (Independent Advisor)


Join other like-minded advisors and consultants, here:




"Increased my Revenue by 233% and Tripled my Income…

Since joining the PMA360 mastermind academy, I have created a plan, increased my income last year by 233% and tripled my annual revenue!"

-Bonnie C., (Independent Advisor)




"I Had My First $200,000 Month…

Approximately 4 months after I began your training, I had my first $200,000 income month, followed by a $100,000 month!"

-Bo M., (First Allied)




"Increased my Annual Revenue by 775%…

Since joining your community, I have risen from the bottom producer in my study group to the top. First I increased my income by 427% and then I finished the year up 775%. And I qualified for my company's executive council!"

-Michelle D., (New York Life)



"Increased my Referrals by 1220% & income 20%…

After creating my formula and plan, warm introductions became forefront! I have increased my referrals by 1025% (my goal was 1000%) and revenue by 20%. The following year I increased my referrals by 1220%!"

-Mike L., (Investor's Group)




"Had My First Back-to-Back $30,000 Months of Revenue…

Since joining the PMA360 Academy, I had my first back-to-back $30,000 months of revenue and now am on track to my first $100,000 month. I have created my plan and schedule and it's working!"

-Theresa S., (LPL Financial Group)



Join Business Made Easy, here:





"Revenue Up 30% For the Year…

Since joining the performance mastermind community, I am having my best year yet and am up 30%. I just closed two million dollar polices and have also lost weight!"

-Kate C., (Ameritas Financial)




"My $100,000 Annual Revenue Was This Month's Revenue…

Once I was able to change my mindset, believe it was possible & put my attention to focusing on my ideal client, I was able to hit my first $100,000 revenue month."

-Michael C., (Lincoln Financial Group)




"Up 17% for the Year…

I am up 17% & increasing my revenue from $300,000 to $350,000. Focusing on my inner game, high value fixed daily activities and income producing activities have been critical to my results."

-Kelley E., (Raymond James)




"Increase in AUM by $80,000,000…

We have increased our AUM by $80,000,000 last year. The key was to focus on the most important activities and to create processes for each step!"

-Matt H., (Raymond James)




"I Doubled My Quarterly And Then My Annual Revenue…

Annette's trainings & resources provide real world experience and a "done for you process" you can implement immediately to get results that are guaranteed to take your business and life to the next level. After attending Annette's training I first doubled my quarterly revenue and then my annual revenue! She understands the psychology of sales!"

-Todd K., (Ameritas Financial)




"Increased my Income by 37% and on Track to $1,000,000 in Revenue…

Thanks to your training and coaching, I have increased my revenue by 37% and am on track to increasing it to $1,000,000 by implementing the inner game, game plan, and outer game!"

-TJ., P., (Merrill Lynch)

If you have more questions or need support, please email Support@MillionaireSeries.com.

We look forward to helping you attract, close, and retain more ideal, profitable clients so you can win in business, in life, and with your money!

Annette Bau, CFP®
Founder of The Millionaire Insider™ Academy

If you are earning a solid six figure revenue and want a customized plan to take your business and life to the next level, start here: Strategy Session