Hi, I'm Annette Bau, host of The Millionaire Insider™ on YouTube, founder of MillionaireSeries.com™ and The Millionaire Insider™ Academy.
Just like our Millionaire Insider™ Community members, you want results in your business, life, and with your money!
As a service-based entrepreneur, you know that the easiest path to success is to work with clients who can afford your services and who you enjoy serving. As a wealth seeker, you know that the easiest path to achieve financial freedom is to create a solid foundation including the right mindset, develop a winning strategy on your terms, engage an advisor or coach, and then consistently execute your real-world plan.
You also get that to work successfully with profitable clients, you need the inside scoop of their lives:
What motivates them?
What attracts them to work with you?
How to sell them (without it being awkward or uncomfortable).
How to leverage the time you spend marketing your services to them!
You also get that to achieve life and financial freedom, you must:
Determine your passion and what motivates you.
How to attract the situations, people, and circumstances that will make your goals a reality.
Create a step-by-step plan to achieve your goal.
Leverage your resources (time and money) so you can maximize your results!
And yes, it can seem overwhelming…
When you add your life to the mix – kids, a partner or spouse, and careers – success in business and life can seem impossible!
However, if you learn only one thing from me, let it be that creating the life of your dreams is possible and worth it! And that the simple secret is to create a winning formula. I will share more about that but before I get ahead of myself, let me tell you who I am!
Hi, I'm Annette Bau (bah hoo), founder of The Millionaire Insider™ Academy and MillionaireSeries.com™. I can assure you, based on my 30+ years of advising, strategizing, and researching the top one to two percent of millionaires, the life of your dreams is definitely worth it!
I also get how challenging it can be to want a successful business and life!
I get it because I have been there. I also know what it is like to make choices that seem to get you closer to your goal, but come at the sacrifice of family time and/or your health.
It is easy to look at someone who has entered the "millionaire club" and think how wonderful their life is or how lucky they are. And the reality is that for some, it is. But for others, not so much. For years, I too believed that simply having money was all I needed – it's easy to feel this way when you don't have enough. The realization that an amazing life requires success in a variety of areas became painfully obvious over the last 30 years.
As I gained exposure to the insider secrets of millionaires, I noticed that while some had amazing lives, others were miserable. Some clearly got wealth mastery and what a truly free life means. Interestingly, some even shared, "money doesn't matter." I know that is more easily said when you have it than when you don't. I also came to understand that while they were living amazing lives, it was not based solely on the amount of money they possessed…
It became crystal clear that money was a significant factor… Because how happy can you be when you can't afford to get your kids properly educated, get them the medical care they need, or afford a home in a neighborhood that is safe? It is clear that while money may not buy you happiness, it does matter. When you are worried about money and afraid or angry over the consequences of not having it, I have never met any broke person who will dispute that fact.
For this reason, I became passionate about uncovering "The Formula to Success – in business, life, and with money." This led me to "The Millionaire Insider™ Secrets," the priceless insight that helps to make your journey easier and more enjoyable. But before I gained this insight, I made a promise that if I could figure it out, I would make it available to anyone desiring to create a financially free life they love. And that is the entire purpose of MillionaireSeries.com™ and The Millionaire Insider™ Academy.
So back to the Formula… The first major insight was that:

Everything in life has a formula. Yes, EVERYTHING!

Think about it… there is a formula for:
Success and another for failure
Financial freedom and another for bankruptcy
Becoming a millionaire with an amazing life and becoming a millionaire with a miserable life
Health and another for illness
A life with drama and chaos and another for a calm life
The best news is that if you are not achieving your desired results, you simply need to change your formula.
If you find your passion, nurture your soul, and unlock your God-given talents, you will identify your formula and find the work you were meant to do while also achieving financial freedom.
For years, I wondered why some people who are smarter or more connected never reached their full potential; whereas, others who don't appear to be cut out for success, achieve amazing results. It always boiled down to the formula by which they were operating. So, if you want success (or anything else), you simply need to create the right formula.
Our Millionaire Insider's™ Community and The Millionaire Insider™ Academy is here to guide you in creating a unique formula so you can achieve your desired goal.
My journey to freedom had its challenges but I wanted success too much to give up. And the best news – I am living proof that anyone with passion and desire can make their dreams a reality.
My journey took me from growing up in a middle-class family and being told I would never make it as a young female financial advisor, to earning my Bachelor of Science degree in Finance, a CFP® designation. And becoming known as "The Millionaire Insider™" while serving the top one to two percent of millionaires for over 30 years (22 as a top financial advisor).
And then from advising seven, eight, and even nine-figure business owners, to creating my own seven-figure portfolios in various venues (i.e., real estate, investments, and small businesses). Then to creating MillionaireSeries.com™ and helping tens of thousands of entrepreneurs, advisors, and consultants create their dream business and life, to authoring articles in leading publications, writing five books and numerous best-selling products, and on to becoming an international speaker.
I also went from struggling, being overworked, and wanting to give up, to creating a financially free life I love – where I get to choose how I spend my time. A life that allows me to work because I choose to, travel the world, do what I love: hike, ski, practice yoga, attend my children's sports events, spend time with my family and friends, and live between three homes. And most of all – prove that creating a financially free life you love is possible and worth it. There is a new game in life, and anyone willing to do the work can achieve the success they desire – personally and professionally.
With all of the success I have achieved, my family is by far the greatest and most fulfilling. My three wonderful kids and husband are the foundation of my life. My husband is the cornerstone to our businesses. He, along with our children, provide the motivation for me to continue streamlining my approach for a financially-free life I love!
Our free Millionaire Insider™ Community and Millionaire Insider™ YouTube Channel, and The Millionaire Insider™ Academy were created to teach you build a profitable business (how to attract, cultivate, retain, and sell ideal, profitable clients) and how to create a financially free life you love (with more peace of mind and financial confidence) so you can win in business, life, and with your money! While most people believe that success has a lot to do with talent or luck… at MillionaireSeries.com™, we know that is not true. We also know that success is not found in a silver bullet or get-rich-quick scheme but instead it comes from creating a solid foundation, winning strategy, and consistent, right action.
A lot of success is boring and mundane. And it requires that you program your mind for success, elevate your "Worth Barometer" (beliefs and self-esteem), get clear on "What" you want, "Why" you want it, and then determine "How" to best get it.
Whether your goal is to build a profitable business, create an amazing life, or achieve financial freedom, our commitment is to provide you the road map and practical tools you need to make your dream a reality.
I am no more capable than you. The only difference is that I tested and improved strategies until I perfected The Millionaire Insider™ Formula that is required to achieve success and a financially-free life. The exact Formula I am going to teach you!

So how can I help you achieve success?

Along with my MillionaireSeries.com™ Insider team, we are committed to provide you with the insider secrets, tools, and strategies you need to create freedom in your life, finances, and business. And we do this through a variety of venues, including:

The Free Millionaire Insider's™ Community Resources

If you want to win in business, life, and with your money then The Millionaire Insider™ Community is the place to start.
Resources in our Insider community include:

The Millionaire Insider™ Channel provides you with the insider resources you need to succeed in business, life, and with your money. We dive into insight, resources, and hands-on-experience to create a profitable business, an amazing life, and, ultimately, financial freedom. The Millionaire Insider™ Channel shows you how to get on a direct flight from where you are to where you want to go. Sign up for the next episode here: The Millionaire Insider™ Channel
Depending on where you need help, we have various resources to support you.
If you need…
If you want…

The Success Formula is based on 30 years of insight and research on how to achieve success – in business, life, and with money. This guide provides the blueprint needed to create your unique, winning formula so you too can succeed.
Access the resource here: Success Formula Guide
The 3 Step Business Plan provides the insight needed to create a winning plan that generates results. This free Millionaire Insider™ resource gives you the step-by-step process to create a simple plan you can develop and execute. The 3 Step Plan is a must for anyone who doesn't have a plan or who has a plan that is not generating their desired results.
Access the resource here: The 3 Step Plan Training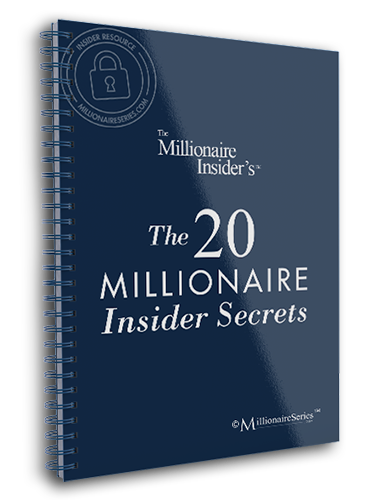 In my 30+ years advising the top 1-2% of millionaires and entrepreneurs I continually identified secrets and insights that were critical to success. This free Millionaire Insider™ resource provides the insight you need to create a mindset, strategy, and execution so you can succeed in your business, life, and with your money.
Access the guide here: 20 Millionaire Insider™ Secrets