Regular
$67


Today Only $30.00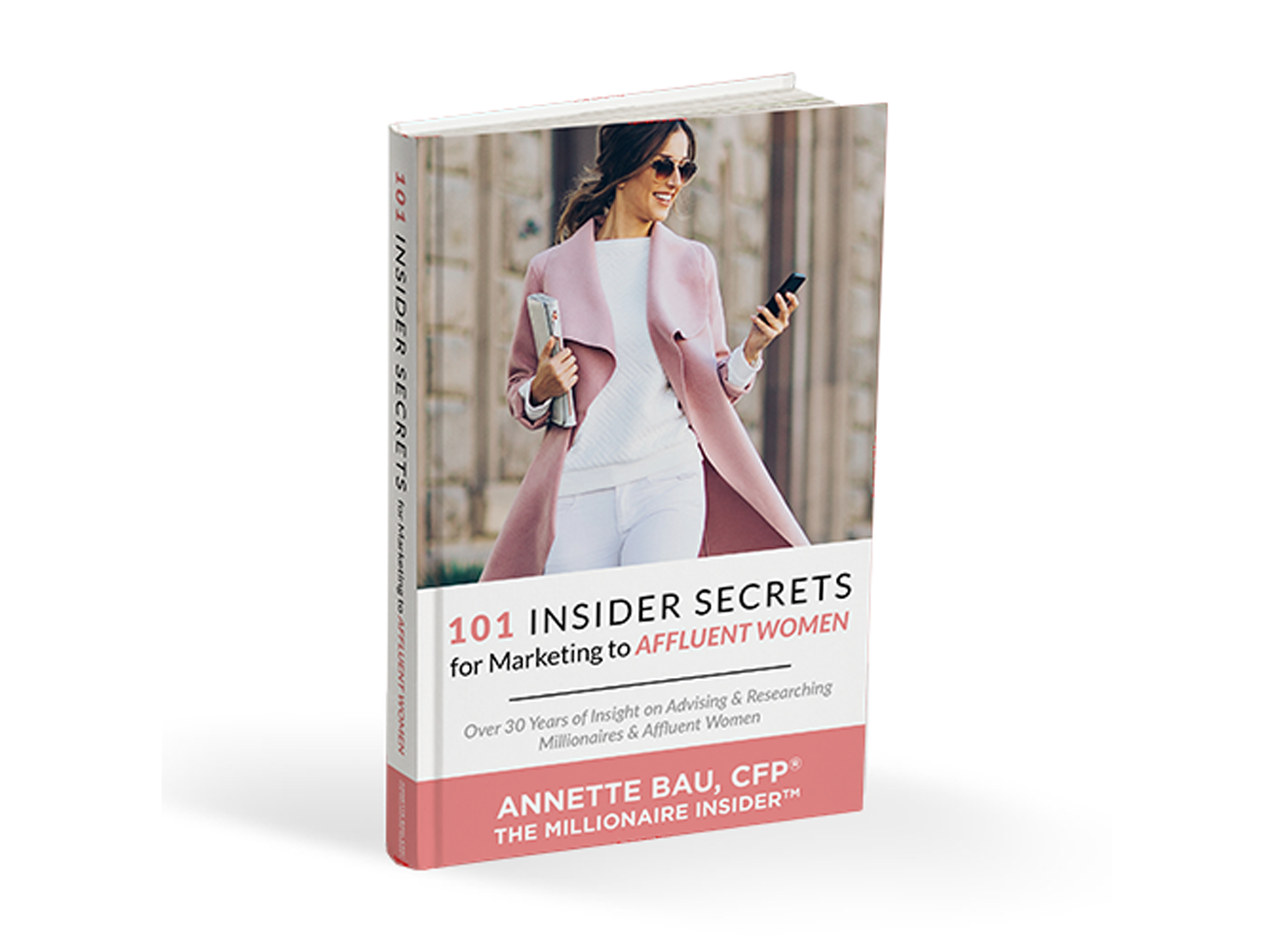 -New and Updated-




eBook and training on how to market, attract, sell, and retain affluent women (and couples) so you can get your share of this $20+ trillion market.



"Annette Bau has the Key to Cracking the Code Working With Affluent Women & Couples!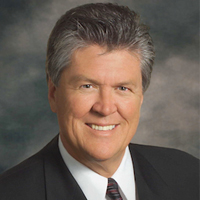 If you want an expert in the affluent women & couple's market Annette Bau is the one. She has developed the key to cracking the code so you can get your share of this $40 trillion market."

-Don Wilkinson (Author: Stop Wasting Wealth, Family Office Expert)


"Increased my Annual Revenue by 775% & Qualified for My Companies Executive Council…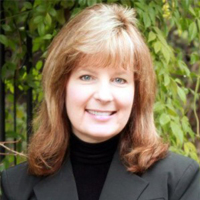 Since joining your community, I have risen from the bottom producer in my study group to the top & have increased my income by 427% & finished the year up 775%!"

-Michelle D., (New York Life)


"Million Dollar Referrals in The Perfect Niche…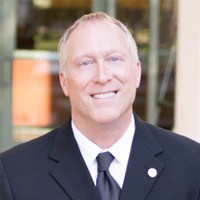 First I created my plan, then I found the perfect niche market of traditional affluent women. The result- I am getting million dollar referrals including $1.2M, $1.4M, $1.8M, $3M!"

-Joel B., (Independent Advisor)


The title of a recent Newsweek article says it all:
"Women are Poised to Become the Biggest Economic Engine
The World Has Ever Known."
"The vast majority of new income growth will go to women," claims the article, "due to a narrowing wage gap and rising female employment." The article shared that females control over $12 trillion, or 65.4% of annual spending in the United States. Some studies guesstimate that the amount of money controlled by women could exceed $40 trillion!
The Boston Consulting Group says it well, "female economic growth represents the biggest emerging market in the history of the planet — more than twice the size of the two hottest developing markets, India and China, combined."
"Any company that overlooks the woman as the decision maker is making a huge mistake," says the female CEO of Avon, quoted in Newsweek.
But it doesn't stop there…. consider these opportunities that will impact your business:
Women control 51% of all private wealth in the U.S. and make over 80% of buying decisions.
Women constitute 47% of the North American affluent market with assets over $500,000
According to the IRS, roughly 39% of the wealthiest investors – those with assets of at least $625,000 — are women. In this group, there are over one million women with a net worth of at least $1 million. Do the math: If you simply convert 1/100 of a 1% of this market as clients, you'll capture more than $100 million in client net worth.
Women-owned companies with 500 or more employees have grown by over 100% from 1997 to 2002.
Consultants & Advisors who want to succeed simply can't afford to ignore or underestimate single or married women. While the financial industry estimates that 70% of women replace their financial advisor when their spouse dies, for some firms it is as high as 98%. Even with the best marketing plan, it doesn't take a rocket scientist to figure out what happens when you lose 98% of your clients when the first spouse dies.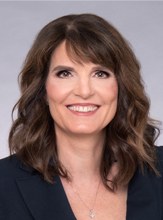 By now, you are probably wondering why I am qualified to teach you about attracting, marketing, closing, and serving affluent women.
I'm Annette Bau, a CFP™ practitioner, with over 30 years as a top producing financial planner to the top 1-2% of millionaires and affluent women. I am also a passionate entrepreneur having created seven figure portfolios in a variety of ventures.
I've coached and worked with consultants and advisors, over the last two decades, providing them the framework to successfully attract and serve ideal, affluent clients.
Over 30 years ago, I began, by accident, working with affluent women and couples. Because there were no resources for supporting advisors, consultants, and entrepreneurs who were working with affluent women, I began testing and trying everything to determine how I could become the advisor of choice.
I've tested, refined and re-tested hundreds of strategies so I can share with you only the ones that have produced the best results. My training is not theory… It has been proven in the trenches, by myself and others!
I want to create a legacy to ensure women get the support they need to make great financial choices by training other advisors who want to serve this amazing niche market.
Because I had so many advisors asking me to help them to better serve affluent women, I have published several books and products including "How to Grow Your Business Working with Affluent Women," "If Only I Had Known… What YOU need to do NOW to Avoid Devastating Financial Mistakes" and "101 Insider Secrets for Marketing to Affluent Women: How to Get Your Share of this $20 Trillion Market."
I've tested, refined, and re-tested hundreds of strategies. And I share with you the ones that have produced the best results. My training is not theory…It has been proven in the trenches, by me and many other consultants and advisors!
Enough about me! It's time to give you real insights about our training programs. You simply won't find anything close to the material contained in our Affluent Women training programs. This material is like finding the pot of gold at the end of the rainbow.
Before we dive into more of the content, see what other service providers have to say about our affluent women trainings:
"I Highly Recommend Your Training for Advisors!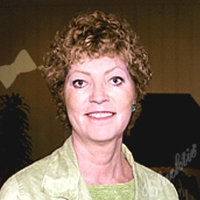 I am enjoying your affluent women Training. You convey a holistic approach. It educates and provides valuable tools to improve their financial and life situations. I highly recommend the training for advisors that want to provide quality education to help women!"
-Kim D., MBA, CFP™ (Practitioner and Advisor)


"Increased my Income by 37% and on Track to $1,000,000 in Revenue…

Thanks to your training and coaching I have focused my practice on working with affluent women. I have also increased my revenue by 37% and am on track to increasing it to $1,000,000 by implementing the IG, GP and OG!"

-TJ., P., (Merrill Lynch)


"Excellent Ideas for Marketing to Affluent Women!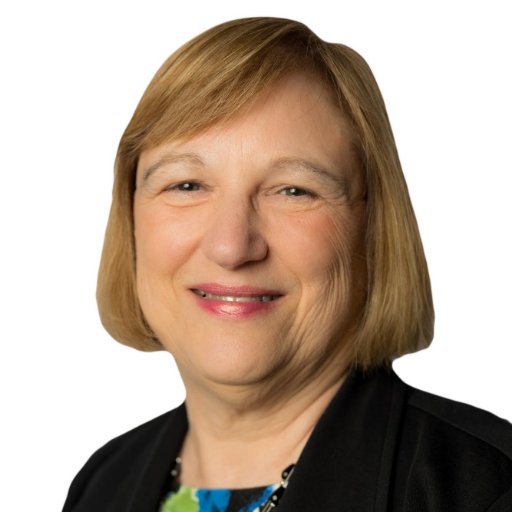 Annette, what a terrific class! You presented us with some excellent ideas for marketing to affluent women. I can't wait to use these ideas. Thanks so much."
-Cindy M., (Certified Retirement Counselor®, Certified Divorce Financial Analyst™)


"Your Insights as a Financial Services Professional Combined with Diligent Marketing Research and Tips are Invaluable….
I spend nearly every day researching marketing insights in order to develop strategy to garner the affluent women's market for our financial services firm. Today, I ran across Annette's series of articles on how to 'Find Success with Affluent Women.' I am incredibly impressed with the specific knowledge you have of this market from 20 years of professional experience. Your insights as a financial services professional combined with diligent marketing research and tips are invaluable. You have managed to synthesize years of relevant research and present it in a way that is useful, compelling and clear. I wish I had found this sooner, but better late than never.."

-Scarlett W., (Assistant VP., Market Intelligence Strategist)



Access 101 Insider Secrets for Marketing to Affluent Women, here:

Here's what you get when you purchase 101 Insider Secrets
1. Insights into the Affluent Women Market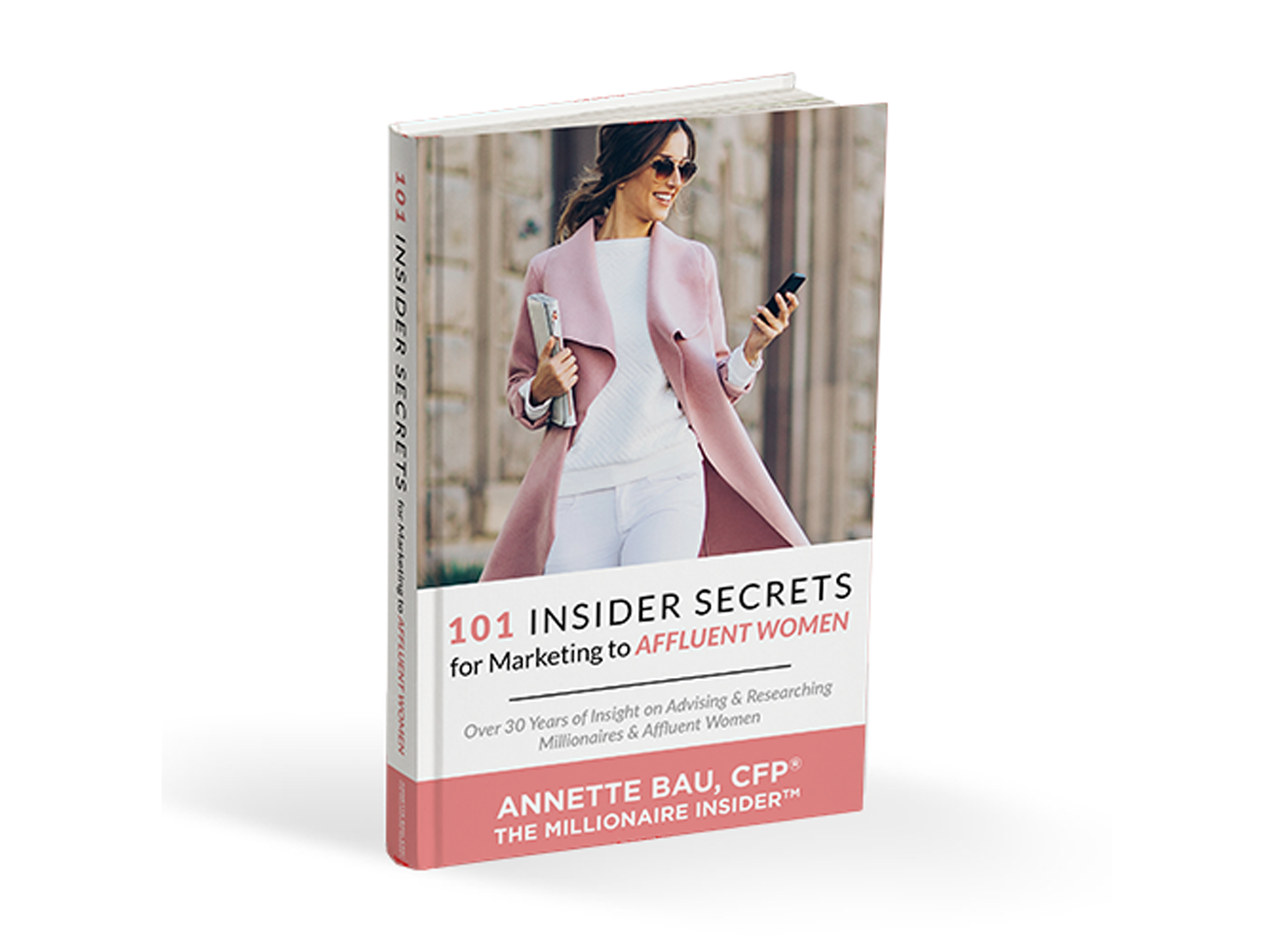 How to capture this $20 trillion opportunity.
What you must do to become their go to advisor.
What you need to do to get their business.
Why chemistry is so important.
What they fear most and what you need to do about it.
How to harness the power of communication.
What it takes for a male advisor to be successful in this market.
How to retain their business when the husband dies.
Why education can be so important to attracting your ideal client.
2. Insights into Different Types of Affluent Women and How They Think
How to understand the different types and personalities of women.
Why marketing to affluent women doesn't work.
Why providing financial advice isn't enough to attract and retain affluent women.
How to understand their different personalities and occupations.
What impact religion and politics play in their decision to hire an advisor.
What really matters to female clients.
What you need to know to achieve your desired results.
How to identify the personality type you will be most effective serving.
Understanding body language from your ideal affluent client.
3. Insights into How Affluent Women Relate to Money
What women want, need and expect.
How to avoid the ultimate turn off (knowing this can keep you from getting fired).
How the different types of women respond differently to various payment options and investment habits.
4. Insights into Finding Women and Wealth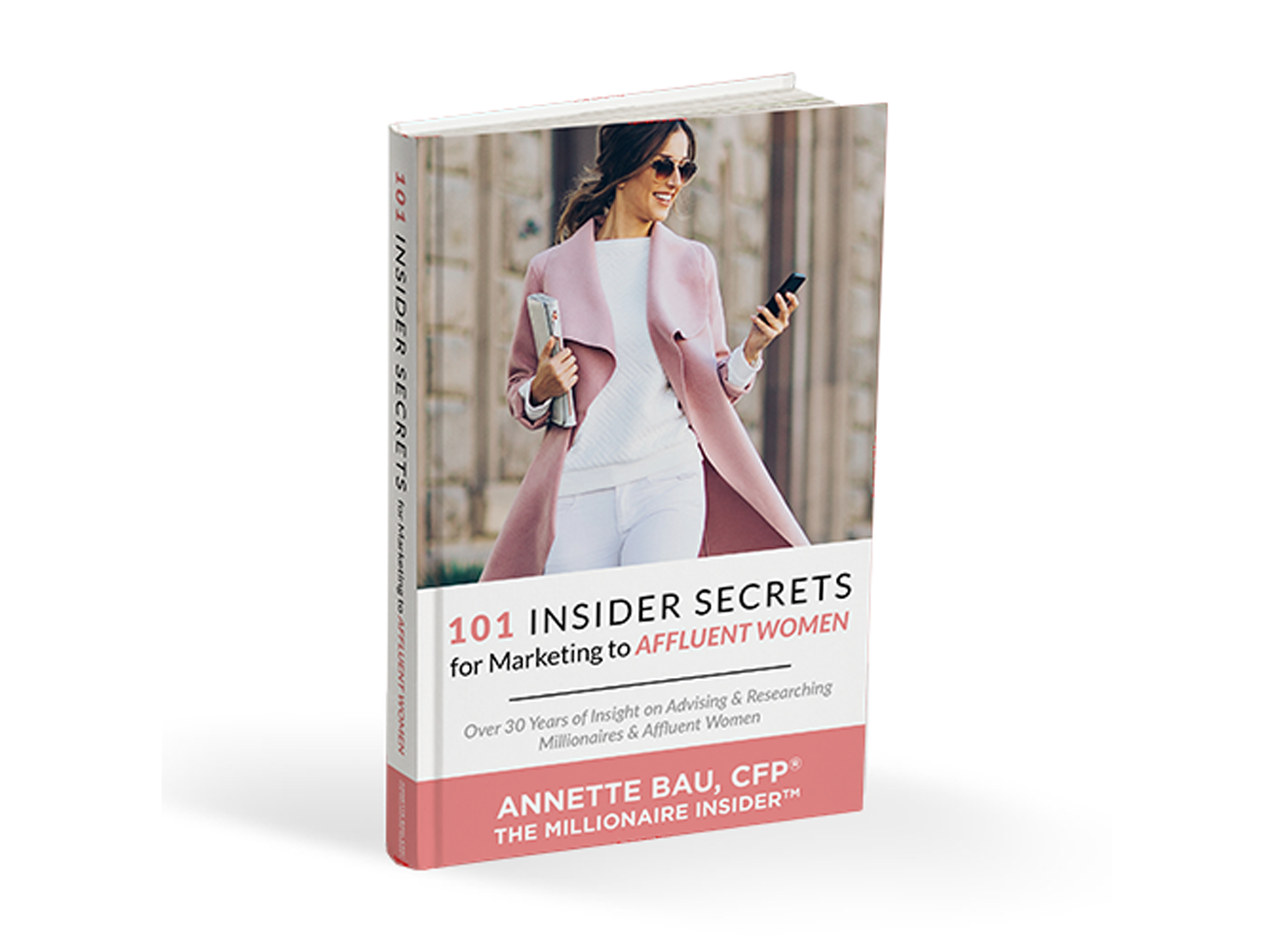 Which clients are ideal for your advisory model.
How timing impacts their decision.
Where to find affluent women.
Some of the best charities, past times, hobbies and social activities to find affluent women (some you may have never considered).

5. Insights into Learning about Your Ideal Clients
Why questions can be more important than the answers.
The key to the foundation of success.
The power of research and interviews.
How to get your clients and prospects to open up.
Why an AskLearnRiches™ is critical to your process.
How to conduct meetings with maximum impact.
How to use surveys and polls.
Purchase the ebook here:

6. Insight into Marketing to Affluent Women
How to identify and use sound bites as effective marketing messages.
Why more doesn't always mean better.
How to use personal mail to attract women.
How to use email, radio and TV to connect with female clients.
The power of an advisory board and how to set one up.
7. Insight into Affluent Women and the Internet
How to use social media connections to create relationships.
How to create an effective website.
What to do to make your blog effective.
With which group LinkedIn will be most effective.
Why tweets keep you top of mind.
How to use Facebook and YouTube.
8. Insight into Effective Relationship Marketing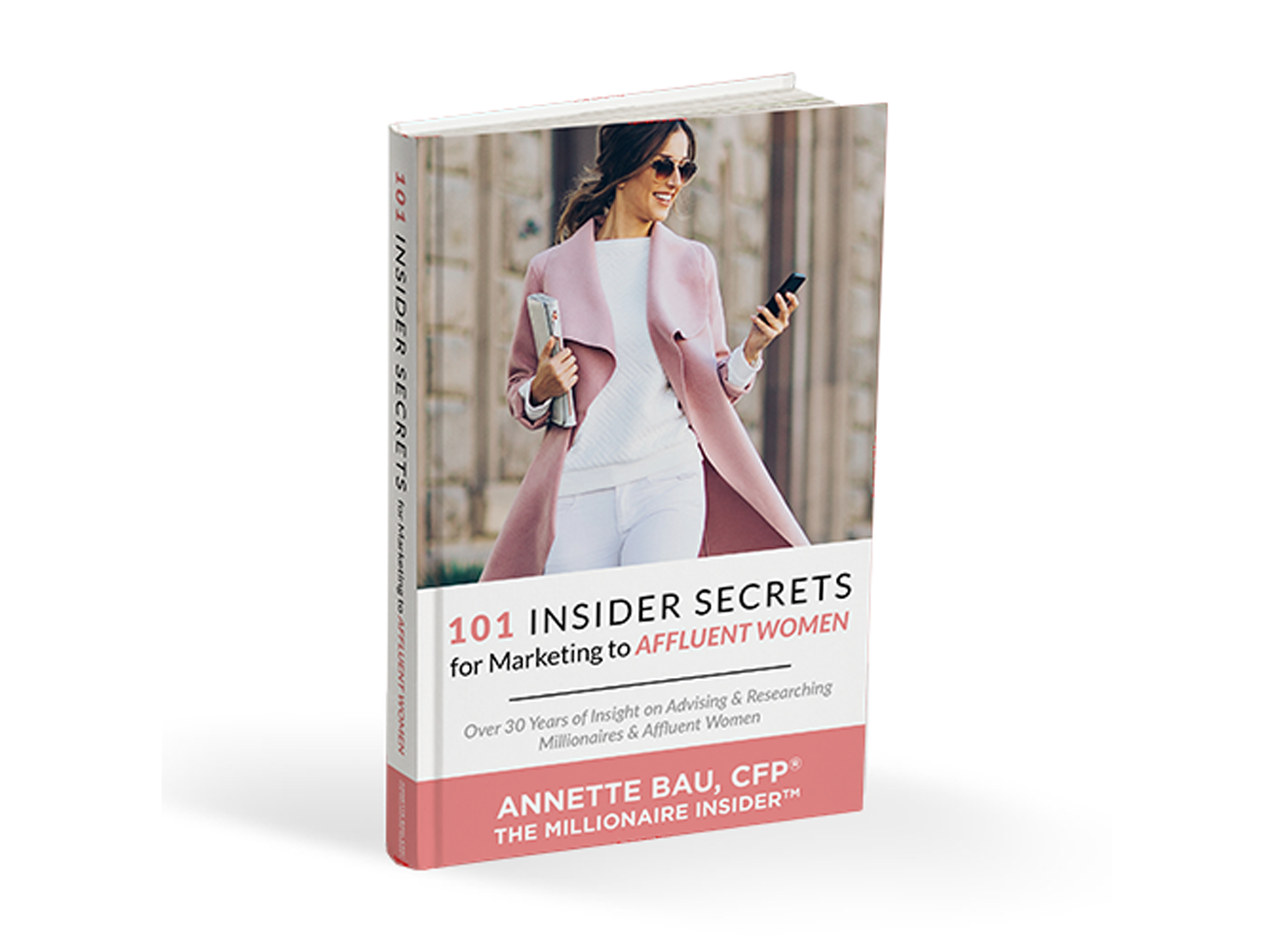 Why ROR is more important than ROI.
The power of pinging.
How to use picture pings.
The power of relationship marketing.
The most important holidays to connect with your clients.
Why birthday and anniversary cards are so effective.
The power of tea for two, three and four.
How to use art, drinks, culinary events, due diligence, fitness, and recreational events to attract and connect with female clients.
9. Insights into Getting Referrals
The power of referrals (you must master this if you want to get your share of affluent women and couples).
How to create your own referral group.
The easiest way to get more referrals and warm introductions.
The best way to increase your referrals from people who don't refer.
The "We Love Referrals" Strategy.
Why the "Center for Referrals" is within your reach.
Why small can work so well.
10. Insights into Educating Affluent Women
The power of lunch-n-learns.
Why community events are so powerful.
How to let someone else do the work.
How a series can lead to success.
Bonus Section – The Two Biggest Insights of All
In this section, you will learn:
How to achieve the best results.
What to do to attract more ideal clients.
Purchase 101 Insider Secrets for Marketing to Affluent Women here:

You don't have to waste your time and resources figuring it all out!
If you want the insight you need to attract and retain affluent women and couples, this is the best resource.
When you access this material, you will no longer be guessing what you should do to acquire more ideal, profitable clients. And you don't have to spend thousands of dollars trying to figure it out! Instead, you will have the tools to succeed in this market so you know what to do to increase your funnel, grow your business, and retain your ideal clients.
Once you understand that success attracting and retaining affluent women and
clients requires a simple 1-2-3 step plan, it all gets a lot easier.
For over 20 years, I have tested what works and what doesn't while serving affluent women. I have also been able to figure out what you need to do to get the results you desire in the shortest time possible.
In this ebook, you will learn
How to identify the best client for your personality.
How to find where they go and what they do.
What they want in an advisor.
How to best attract and retain them.
Which income model works best with each affluent women type.
You will learn everything you need to know to attract, cultivate, and retain more ideal, affluent women and couples and you can take advantage of the insight that has taken me over 20 years to figure out.
If you were to hire me to teach you the information contained in this ebook, it would cost you thousands of dollars… but you don't have to do that! You can simply access this ebook and all the knowledge and experience for less than the price of a gift card.
Who will benefit from this ebook?
This ebook is ideal for advisors, agents, brokers, financial planners, managers, coaches, consultants,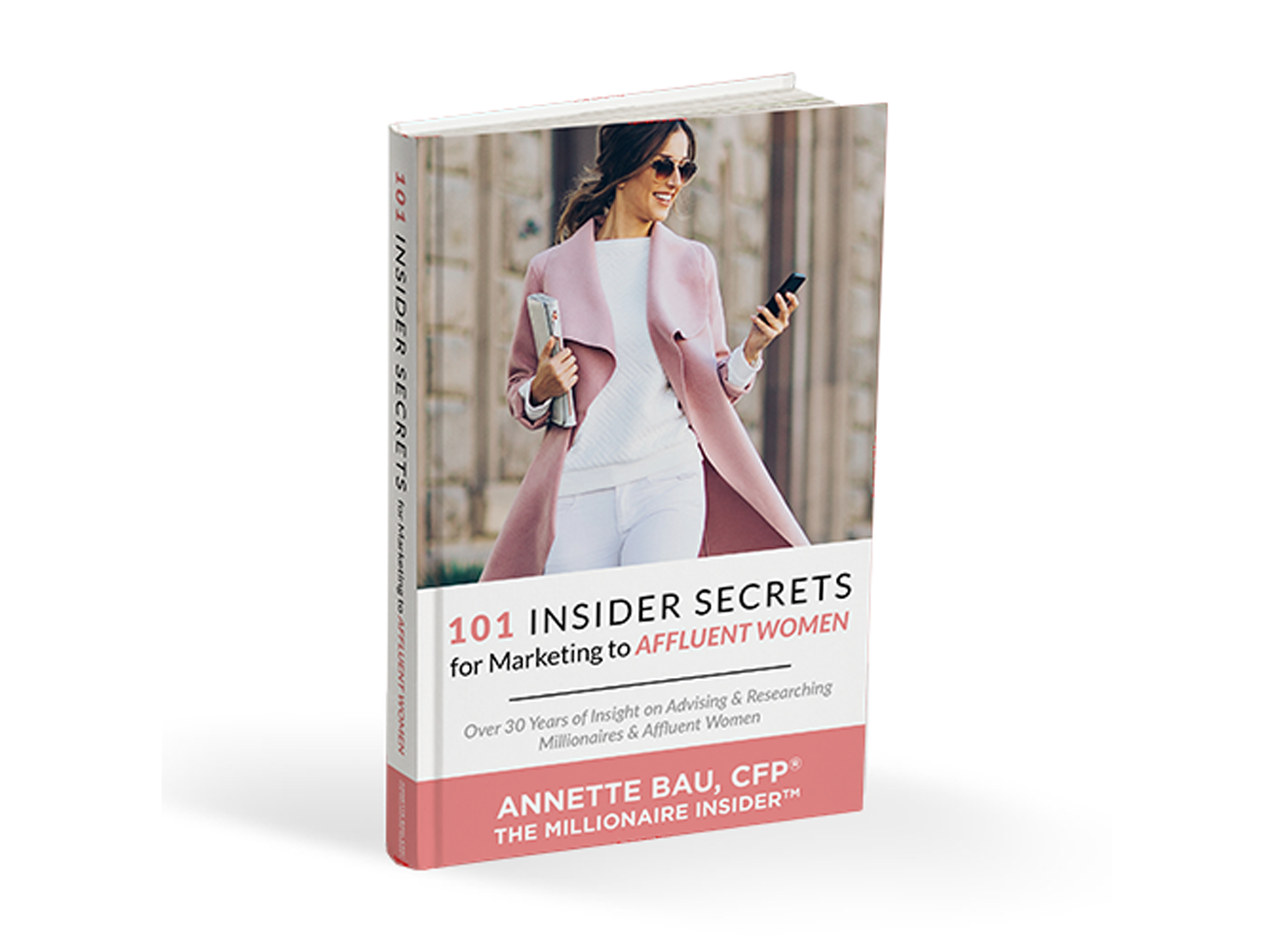 small business owners, executives, insurance professionals, banks, financial institutions, insurance companies, and broker dealers who want insight to attract and retain their affluent women and couple clients.
This ebook is not a quick fix, silver bullet or one size fits all. If you are looking for a generic strategy that lumps all women into one group, this is not the right resource.
This ebook guides you in creating a customized plan with clearly defined clients and helps develop your strategy so you can achieve your desired results.
The best news of all… you can get access immediately.

"Amazing Results!…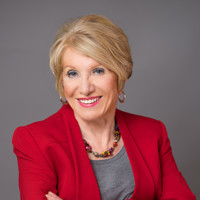 "Amazing Results, I am so glad I took action! After completing the first training class I scheduled a "Lunch & Learn" with a referral partner. My clients & guests loved it! The next day, one of the guests asked me to conduct a yearly event that is attended by affluent and successful business women. I am so glad that I took this training and took action!"

-Lucy H., AIF, CFP® (Consultant)


"Great Practical Information to Reach Affluent Women!

Thanks! This was great practical information on how to reach this affluent market. I have had an interest for some time in developing this niche but needed a more practical "how to" approach. You certainly provided that and I appreciate it!"

-Laura C., (Member of Ed Slot's Master Elite IRA Advisor Group, Advisor to Affluent Women)


"Annette is a dynamic speaker, leader, and powerful woman of wisdom and insight. She has a wealth of information to share…


When in her presence, listen carefully- you will be inspired."

-Kyra B., (Pastor & Counselor to Women)


"Great Actionable Suggestions!"

Clear flow and process and Great actionable suggestions. One of the best points is to really know your audience and meet them where they are and I love your anniversary idea. You come across congruently and in integrity.

-Nalini I. K., Financial Advisor


"Practical, Organized Material You Can Immediately Implement

Annette always delivers great material that you can use immediately. I just love that it is practical, organized, and easy to implement. She breaks down the concepts that you need to be successful and gives me materials that get my business to the next level. Annette keeps me motivated to move forward and gives me the tools that I need!"

-Linda J., (LPL Financial)